Dual Degree MIM NTUST X MMSI BINUS
Master of Information System Management program of BINUS University have collaborative program with National Taiwan University of Science & Technology (NTUST) for Dual Master Degree. Students who enrolled in this program will attend BINUS for one year and NTUST for One Year. Students will graduate with Master Management Information System of BINUS and Master of Information Management (MIM) of NTUST.
General Information
NTUST is a public university that was established in 1974 with its campus located on the Taipei, Taiwan. The learning outcome that Students will have by enrolled in this program are  Students will be analytical and critical thinkers in major functional areas of modern business, Students will have in-depth knowledge in an area of specialization, Students will have enhanced communication skills, Students will have enhanced information processing skills, Students will have advanced understanding and adoption of ethical practice in a business environment. In order to graduate from this program, students need to have minimum 36 credits course and Successfully defending thesis.
The following are graduate courses for students are currently offered in English by professors from Dept. of Information Management:
Mobile Computing (Prof. Yung-Ho Leu)
Data Mining (Prof. Yung-Ho Leu)
Emerging Technologies and Business Innovations (Prof. Yu-Qian Zhu)
Information Systems and Management (Prof. Yu-Qian Zhu)
Cryptography (Prof. Tzong-Chen Wu)
Gigabit Network (Prof. Yuan-Cheng Lai)
Network Flow Model and Applications (Prof. Cheng-Huang Hung)
Multivariate Analysis (Prof. Cheng-Huang Hung )
Multimedia Systems (Prof. Chuan-Kai Yang)
Information Security for Web Services (Prof. Nai-Wei Lo)
Statistics and Data Analysis (Prof. Wei-Ning Yang)
Artificial Intelligence Technologies and Business Applications (Prof. Bor-Shen Lin)
Inventory Theory (Prof. Cheng-Kang Chen)
Study Simulation
The following table is the study simulation, MIM NTUST only admit twice a year at Fall and Spring Semester. During the 2nd year at MIM NTUST, student must stay study on site full time in NTUST Taiwan
1st year in MMSI BINUS
2nd Year at MIM NTUST
Application & Selection Process in NTUST

Period 1:  Sept – Aug
Fall: Aug – Sept
Feb – Mar
Period 2: Des – Nov
Period 3: Mar – Feb
Spring: Feb– Mar
Aug – Oct
Period 4: Jun –  May
MMSI Student that is its intake periode does not match (periode 2 & periode 3) with MIM NTUST intake time, if the student want to join, have to extend its study time to be 2 years + 3 months.
Registration
Registration for this dual degree at MIM NTUST can be started only after MMSI students has studied in MMSI minimum 3-4 months.
Requirement needed for participating in this program is listed below:
Bachelor Diploma
Bachelor Transcript
Master Transcript of Record
Two Recommendation letter
Curriculum Vitae
Minimum TOEFL ITP500 or iBT47 or its equivalent;
Minimum GPA is 3.0 during Undergraduate
For registration can be done in the following link: http://www.oia.ntust.edu.tw/home.php?Lang=en.
Tuition fee for MIM BINUS: https://graduate.binus.ac.id/tuition-fee/
Tution fee for NTUST (at 2nd year): https://www.admission.ntust.edu.tw/p/412-1052-8881.php?Lang=en
For further information, contact MMSI Study Program
Administration process are listed below:
1. Open website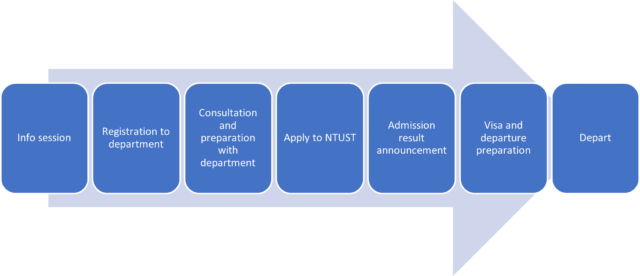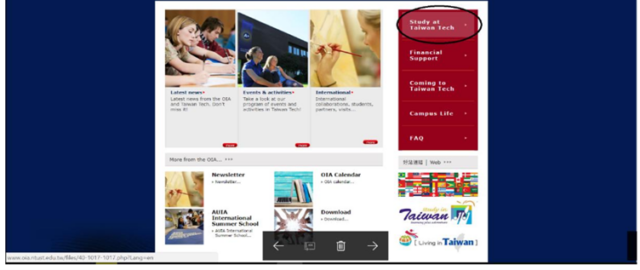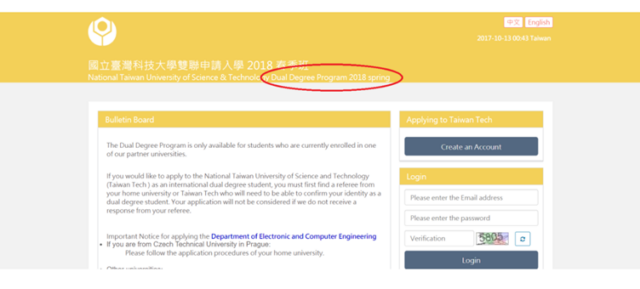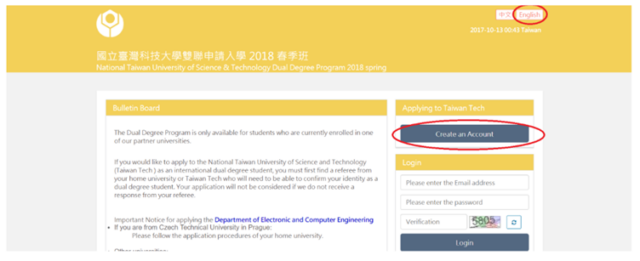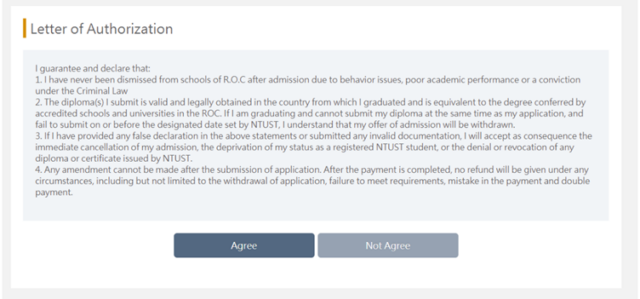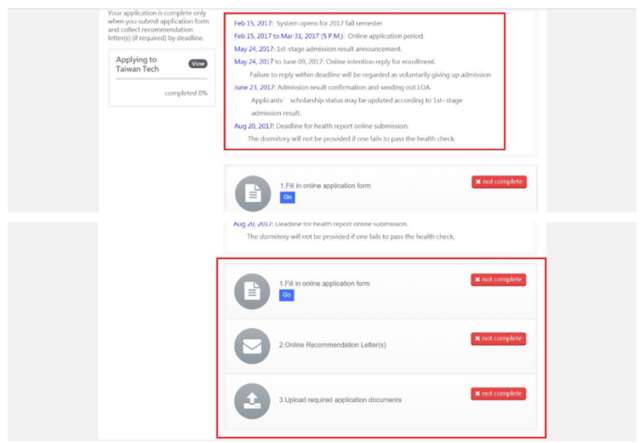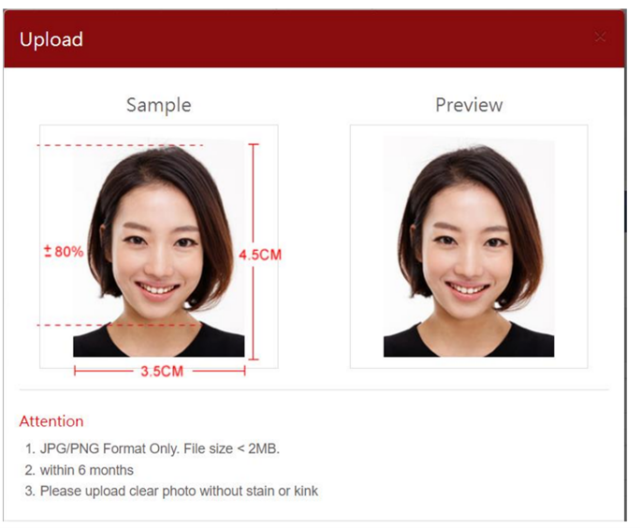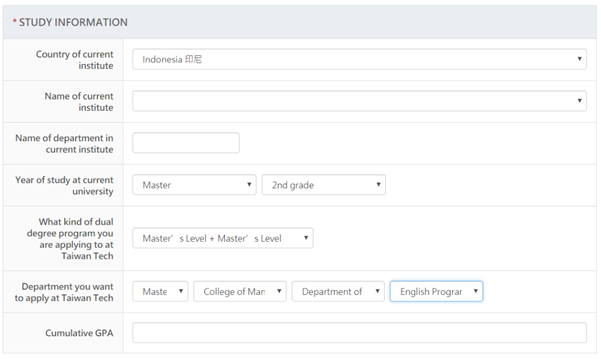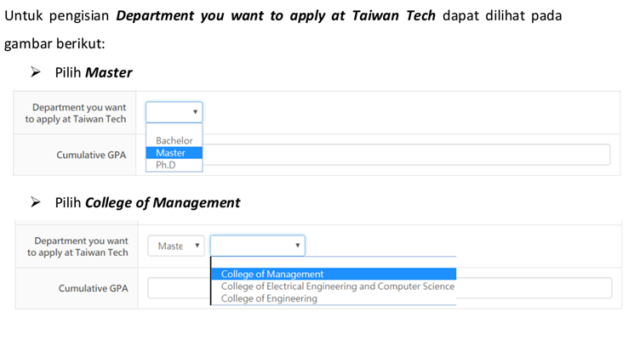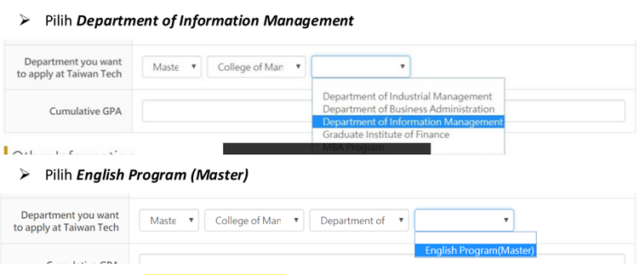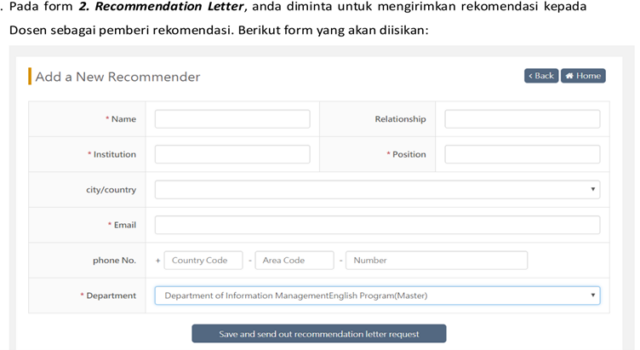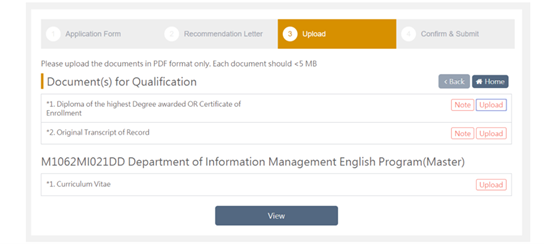 Living Cost
The following are the accomodation and living cost
| | | |
| --- | --- | --- |
| Item | NTD | Approximately in IDR (1 NTD ≈ 500 IDR) |
| Daily Meal & Foods | 5,000 / month | 3 million |
| School dorm-housing | 7,000 / semester or 1.167 / month | 3,5 million/semester or Rp600k/month |
| Mandatory national health insurance | 749 / month | 374k/month |
| Total basic living cost with School dorm-housing | NTD6,916 | 4 million |
| | | |
| --- | --- | --- |
| Item | TWD | Approximately in IDR (1 NTD ≈ 500 IDR) |
| Non-school-dorm housing | 4000 - 8,000  / month | 2  – 4 million / month |
| Public transport | 1000 / month | 500k / month |
| Communication & Internet | 400 / month | 200k / month |
| Entertainment & Leisure | Vary | Vary |
| Clothing | Vary | Vary |
| Utilities (Electricity, AC, Water, Garbage collection) | Vary | Vary |
| Airplane tickets Jakarta to Taipei | | 3 – 5 million IDR / one-way flight |